How to Choose a Rod Holder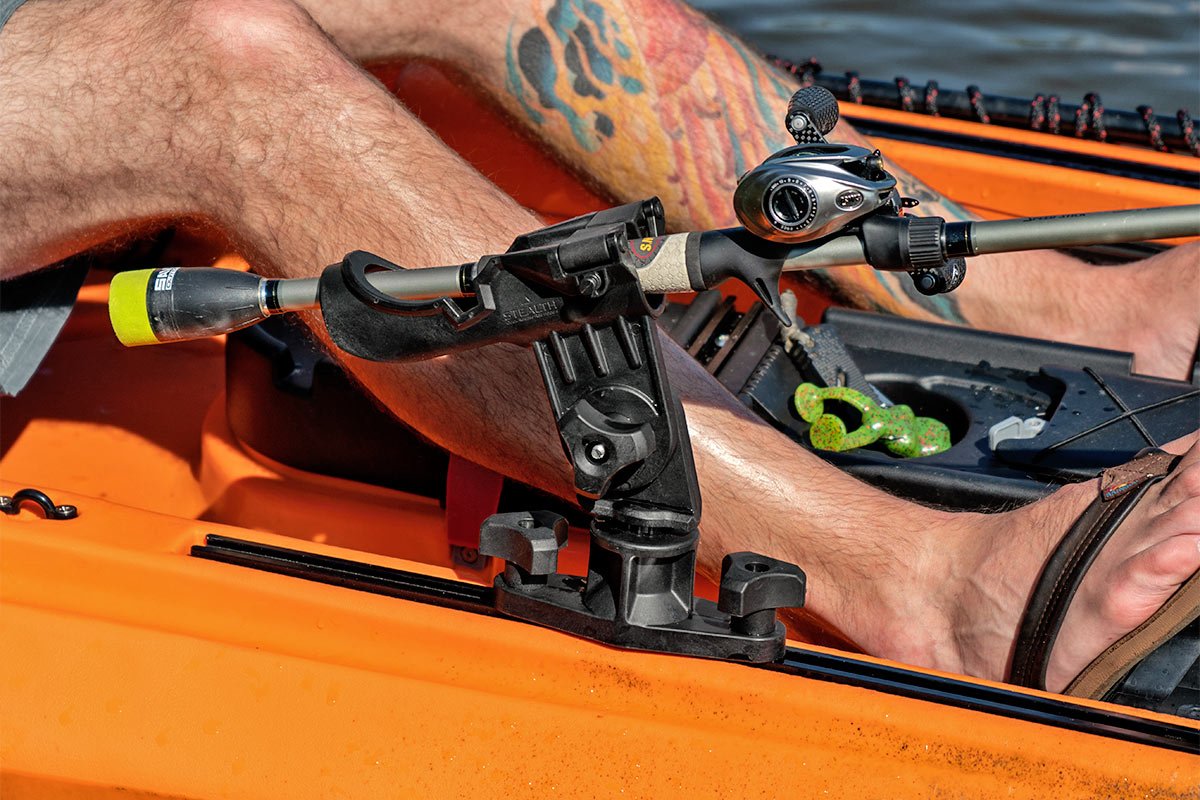 The first thing many kayak fishing experts do when they get a new boat is begin making it their own. One way to do this easily is to start adding ways to transport and stow their arsenal of fishing rods. Vibe kayaks come with standard rod holder options, but some people prefer the utility of a standalone rod holder. These can be more easily angled and rotated for use while trolling, or even just to offer a quick place to set your rod down to handle the monster fish that you are bound to catch.
There are so many options out there, all with their own benefits that it can be a daunting task to narrow it down to just 1 style holder. So here we will discuss 3 great options to consider.
Ram 2000 Series
A tried and true option is the RAM 2000 series rod holder. This by some standards basic classic has been around the block and is still a popular choice amongst seasoned kayak anglers. It mounts to the boat utilizing Vibes built in gear tracks with a RAM ball attachment, the holder itself clamps onto this ball, which allows it to be almost infinitely adjusted for angle and pitch. This holder relies on a retention clip that secures the rod from sliding out of the holder.
Yak Attack Omega Series
A more recent popular holder is the Yak Attack Omega series rod holder. This system attaches to the boat in a similar fashion as the RAM, a proprietary stud screws down tight to the tracks, this allows you to rotate the holder 360° the lock'n'load system secures the holder to the boat while still allowing you to quickly remove the holder for transport or storage. The Omega has a pitch adjustment knob and utilizes a thick retention collar that when rotated into place secures your rod from going overboard, it is available in a pro model with an extension arm that offers another plane of adjustment.
Stealth Rod Holders QR Series
And the new kid on the block. Stealth Rod Holders QR1 and QR2 rod holders. They attach to the boat via a dual point track adapter that spreads out the load on your gear tracks, this creates a very solid rod holder. They can be rotated 360° and the adjustable pitch gives you nearly infinite control over the positioning of your fishing rod. The unique feature of this holder is the cam lock grip, which holds the rod snuggly by itself, this allows you to troll without worrying about the rod, but it also lets you grab it one handed without fiddling with the retention clips or collars of other rod holders. And for peace of mind, there is also the option to use a retention strap that locks your rod in place if you are just booking it back to the ramp or moving from spot to spot.
No matter which rod holder you find works best for you, you can set off on your next adventure without worrying about where you are going to put your fishing equipment.
No Drama. Just Adventure.