How to Choose a Shearwater 125 Pod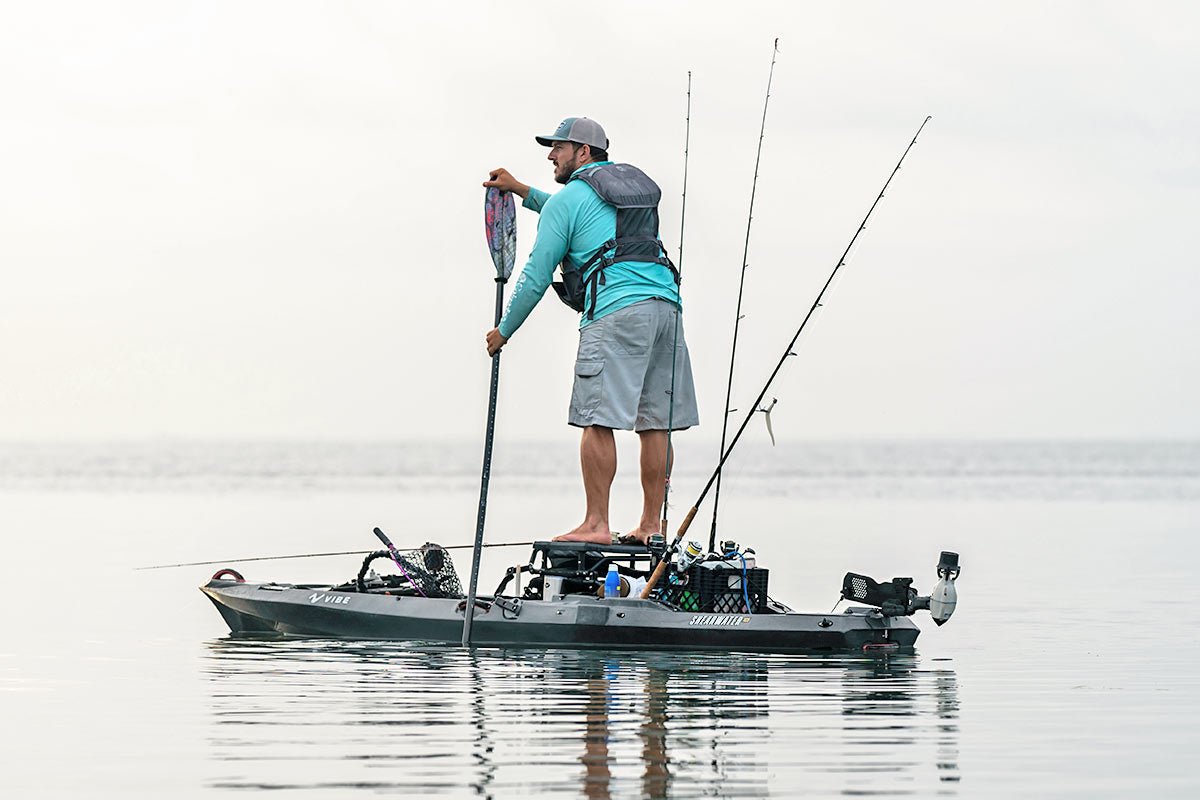 Choice; philosophers have written about human choice for centuries, and they never could decide if free choice is a good thing or not. But they never had a single kayak that could transform itself to be whatever you need for your adventure.
The Shearwater 125 is the most modular boat on the market. Being able to switch out pods to suit your daily adventuring needs has been a HUGE change in the way we approach hitting the water it is like having your very own "Choose Your Own Adventure Boat"
The 3 pods currently offered by Vibe are the Standard Standing Pod, which gives you a nice flat padded surface to utilize that big open deck kayak. The X-Drive Pod allows you to use our X-Drive or any fin style pedal drive system on the market, and there is the Versa Pod, which gives you a killer utility bin right within easy reach for general adventuring. So which pod is right for what situations?

Standing Pod: The standing pod gives you a big open decked kayak that is ideal for general adventuring, standing, maneuvering, or maybe bringing along your little ones or critter friends. The standing pod gives you a solid platform and frees up a lot of space in your cockpit. If you have a Bixpy Jet Motor or prefer to paddle, this option will give you the most space.
X-Drive Pod: This is the big one, using this pod you can transform your Shearwater into a fast, sleek, pedal-driven kayak. Use the X-Drive pod when you have water to cover, maybe you have a big tournament and need to get to the other side of the lake, maybe you are going on a long adventure and are crossing a chain of lakes in the Everglades, and Kevin Hughes is guiding you going c'mon just one more lake! Whatever the reason, utilizing the X-Drive Pod to install a fin style pedal drive is a popular choice, and really kind of speaks for itself.
Versa Pod: Versatility is the name of this game! Don't think of it just as a bin to toss stuff in. Think of it as a blank slate, do you want a dry spot to keep your camera gear handy? How about a place to put some soft plastics within easy reach? The Versa Pod is going to give you that. The magnetic lure catch on the lid gives you a place to toss hooks and lures when not in use, but not ready to put them away. The bungee net gives you a spot to lash a tool or 2, and with the large storage compartment, the sky is the limit!
Owning all 3 gives you the ability to change the way your Shearwater is equipped on an adventure to adventure basis. Making it the most modular kayak in our lineup. Pick your pod, pick your adventure!
No Drama. Just Adventure.