How To Become A Tournament Kayak Angler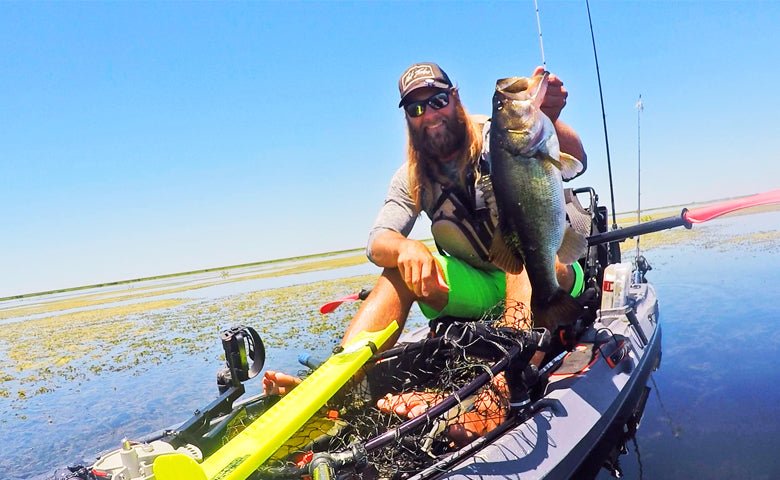 When I bought my first kayak back in 2015, I had no idea it would be the start of my journey to becoming a competitive kayak bass fisherman. I grew up fishing for walleye on Lake Erie, and never thought of myself as a bass fisherman. Once I got into high school, I started bass fishing around the bay where our boat was docked, but I never really knew what I was doing. I slowly started putting together a bass tackle box over the years, but it was not until the summer before my junior year of college that I considered myself to be a bass fisherman. This was the summer that my cousin invited me out to go kayak fishing for my first time. I had never thought of fishing from a kayak until he invited me, and I immediately fell in love with it. It was not because we had an amazing day of fishing, because we didn't. To be honest, I think we only caught two small bass combined that day, but there was something about being so close to the water that made my fishing experience so much more enjoyable that day. By the end of that week I had stumbled upon the Vibe Kayaks website and had my Skipjack 90 picked out.
As a college athlete, a 9-foot sit on top kayak with 4 rod holders was more than enough to fill my need for a relaxing get away for an afternoon occasionally. School and hockey took up most of my time, even into my summers, but when things got tough, I was so thankful to have my Skipjack 90 with me at college when things were not frozen over. Up until 2017, I would go out for casual trips for a few hours every other week or so, and I felt like I was becoming a very good fisherman. When I returned to college for a 5th year in the Fall of 2017, my hockey career had ended, and I found myself with a lot of free time on my hands. I began fishing Lake Congamond, a local lake in western Massachusetts. I went to the lake every weekend, and admittedly, found myself on the water instead of in class a couple times. One day while on the water, a local man fishing off his dock told me about a tournament that was coming up at the end of October on the lake. Feeling very confident in my bass fishing abilities, especially on this particular body of water, I thought I was ready for my first kayak bass fishing tournament.
I woke up the morning of my first tournament feeling extremely confident, until I showed up at the ramp. All I could think of was that I was outgunned. I had my Skipjack 90, three rods, and a backpack of tackle compared to kayaks bigger than I had ever seen set up with bass boat sized fish finders, motors, pedal drives, insane amounts of tackle storage, and up to 10 rods. I had no idea how intense kayak bass fishing could be. It ended up being a rough day for everyone with only 4 fish being caught across 14 anglers, but for me it was an extremely difficult day. I was getting blown around, waves came into the kayak getting me soaked, and I almost fell in the water. Even though I felt outmatched in my first tournament, I was absolutely hooked on competing out of a kayak. I immediately went home to look at some bigger kayaks, just to find out that everything was out of my price range as a college student. Although it was disappointing, I was not going to let the size of my kayak determine my ability to compete in tournaments. By the following summer of 2018 when I would fish my second tournament, I had my Skipjack 90 loaded up with 6 rods, and probably enough tackle to put me over the weight limit. My second tournament went much better than my first. I managed to catch a limit, and finish 54th out of about 90 anglers.
Soon after my second tournament, I had to put fishing on the back burner while I worked my way through grad school in Florida. Between school, work, and my internship, I was regularly out of the house for 12 – 17 hours a day 6 days per week, so I was only able to get out fishing on an occasional Sunday. I found out very quickly that if I wanted to fish some of the most popular bodies of water in Florida, I would need a bigger kayak due to how rough the lakes could get. After spending a lot of time searching and comparing, Vibe came through again with the best option for me at the time in the Seaghost 110. It was the kayak that I could afford, while also having all the features necessary to help me be competitive in tournaments. The Seaghost 110 could easily hold all the gear I wanted to bring with me, had convenient storage in the center hatch, and was all around a great kayak. I finally got a chance to enter my third tournament on the St. John's River in December 2019 and it did not go well. Bad weather throughout the weekend killed the fishing for the entire field and made it extremely hard to fish from a kayak. Although I was frustrated with the turnout, I realized tough days like this one would happen, and the only way to be successful on days like that would be to get more experience fishing tournaments when conditions are no excuse for missing a day of fishing.
Since I finished my graduate program in December 2019, I decided that 2020 would be the year I dive into fishing kayak tournaments with my only goal being that I cash a check in at least one tournament. I joined the Kayak Anglers of Florida Sunshine State trail and have had a great time competing and have grown a lot throughout the 4 tournaments I have fished. In my first tournament, my only goal was to make sure I did not get skunked, and I didn't. I managed a 9th place finish out of over 30 anglers. For the first time in my tournament experiences, I felt like I had accomplished something. I was extremely excited for my next tournament and ended up finishing 8th on Fellsmere Reservoir. I was content with this finish, but only because it was on a body of water that I had not ever fished before. From this tournament, I learned the importance of spending a little time practicing and getting to know a lake before a tournament. It was also during this tournament that I realized how beneficial it would be to have a pedal drive kayak, because of how much water I needed to cover that day. Luckily, I had ordered my Shearwater 125 that would be delivered in time for my next tournament. Using the Shearwater, I was determined to be prepared for my next tournament on Lake Kissimmee. I spent 3 days practicing during the week leading up to the tournament and would not have been able to cover as much water as I did during those 3 days without the Pedal Drive in my Shearwater. Although my tournament on Lake Kissimmee was an incredibly frustrating day, I stuck to my plan and what I had learned about the lake and managed to capture my first ever tournament win and paycheck! I felt like all the hard work an effort I put into preparing for the tournament had paid off and was set on preparing the same way for my next tournament on Lake Istokpoga. I am still happy with how I prepared for that tournament; however, I did not manage what I had learned about the Lake like I needed to on tournament day. I found fish early in the morning right where I thought they would be, but instead of moving to another area I knew would have fish, I tried to force the fish to eat in the area I had previously been catching them. I ended up with another 9th place finish, and a tough lesson learned.
It has been an incredible journey to where I am today as a tournament kayak angler, but I still feel like it is only the beginning. I have loved every second of the intensity fishing tournaments brings to the sport, and I look forward to growing into fishing more nationally recognized tournaments in the future.

No Drama. Just Adventure.
By: Jake Suvak