How to Choose a Cooler for Kayak Fishing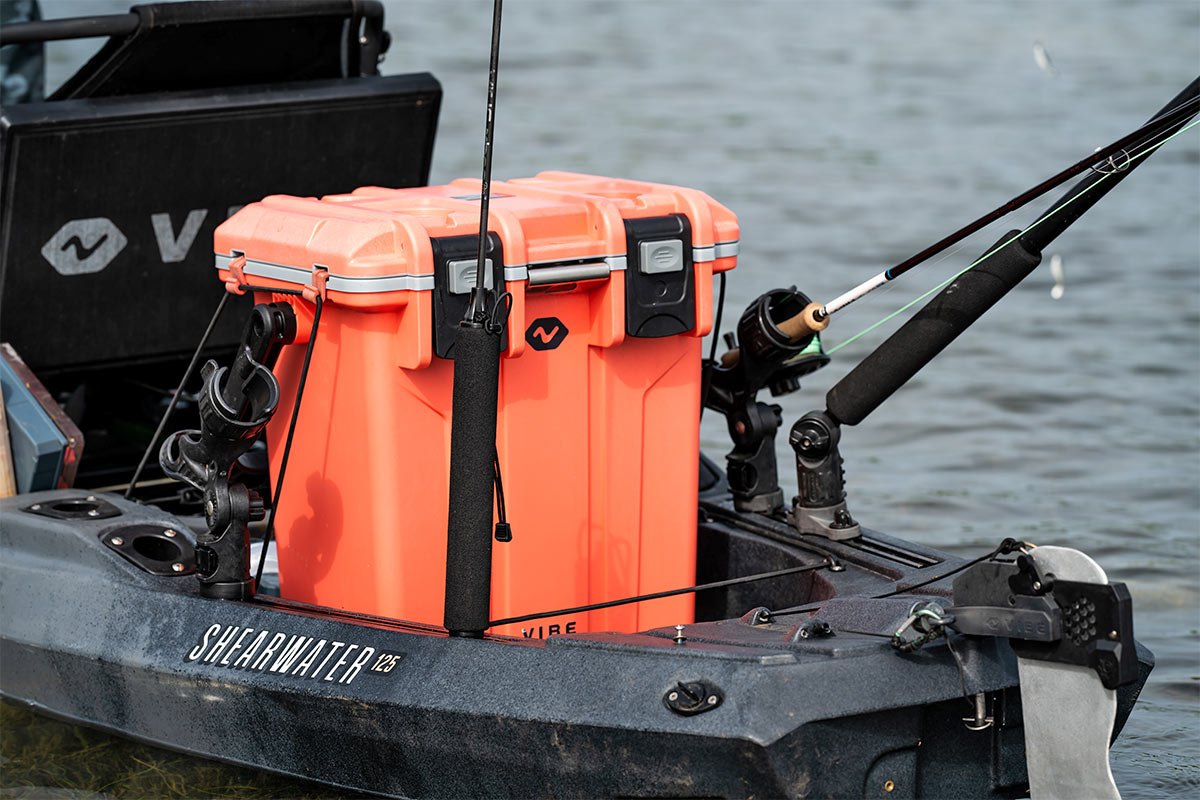 A kayak cooler is an absolute must all the way through autumn if you're looking to keep your beverages, food and daily catch as cold as can be before you get back to the car. It not only allows you to stay on the water longer, but a cooler is going to make your days – or nights, if you do any night kayak fishing – that much easier and more fun.
Every paddler and kayak angler should consider their kayak cooler as important a piece of gear as anything else they own – and if you're going to have a piece of equipment that lasts you years, then you should make sure you buy the correct cooler for your needs, right?
Nowadays there's a cooler for everything, but what are your best options for kayak fishing specifically?
What To Look For In A Kayak Cooler
We'll walk you through the basics of choosing a cooler for kayaking, as well as suggest why we think the best current "kayak angling specific cooler" option for performance, portability and budget-friendly is the Vibe 20 Quart Cooler – an all-weather-tough cooler small enough to fit on any sit-on-top kayak, keeps your stuff cold for days, and light enough to carry from vehicle to kayak, while also perfect for campsite or tailgating,
The Basics Of What You Need In A Kayak Cooler
On the water, you're working with minimal space on a kayak, but a need to keep things cold in an environment with little to no shade for up to 8-hours or more – and if it's on a longer adventure trip, you may need days of insulation. Whether you're looking to keep bait fresh, or a 12-pack plus food and catches cold, the main factors you want to take into consideration when choosing a good kayak cooler is size, shape, insulation and storage volume.
That simply means you're looking for a smaller cooler that'll fit on your kayak comfortably, but which gives you a lot of insulation for its small size and maximizes internal volume, so you can carry as much as possible.
Sit-On-Top Kayak Cooler Vs Sit-Inside Kayak Cooler
Finding a good cooler for a sit-in kayak can be a much bigger challenge than doing so for a sit-on-top kayak, because you're working with much, much more limited cargo space than you are for a sit-on-top kayak, and sit-inside kayaks are not very forgiving of large, bulky items.
If you have a sit-inside kayak, it will require you to purchase a small soft-sided cooler – and soft-sided coolers are nowhere near as insulated as the thick, super-insulated walls of any hard-sided coolers, because soft-side coolers have to have fairly thin collapsible sides.
When searching for a cooler for a sit-on-top kayak, you have a ton more good options for cooler models that are both portable and well-insulated.
Durability
As we all know, Mother Nature is a b*tch. She can turn any moment sideways, on and off the water, so when it comes to picking a cooler than can stand up to Her temper, you need to take a hard look at what the cooler is made of, and how it's made.
If you want a cooler that's going to last you a good long time, and be able to take a beating – whether accidentally dropped off the back of your truck at 60 mph, or grabbing 'oyster rash', or pummeled by rain and wind, or shrugging off back-cast hooks, or whatever – then you want a hard-sided cooler with thick-enough walls to protect and keep cold whatever's inside.
From there, you want to focus on: Insulation, Internal Capacity / Size, and Weight / Portability.
Insulation
The main purpose of a cooler is to keep your food, bait, catches and drinks cold, even when you're in hot conditions. Thus, the insulating ability of a cooler is of key importance. If a cooler isn't keeping things cold, then, like, what's the point, right??
While every company uses their own insulation system, hard-sided coolers tend to provide longer-lasting cold than their soft-sided counterparts. Injection molded polyethylene – seen on all of your best selling-brands' coolers – are amongst the very best insulating materials out there, so keep an eye out for "injection molded" as you shop. Injection molded manufacturing process allows for amazing retention of cold and ice-keeping and also a more involved shape/design for a higher potential utility and features.
Capacity / Size
The amount of carrying capacity you need in a kayak cooler depends on how much you need to keep cold while you paddle and/or fish. That being said, it's important to keep in mind that you're also limited by the size of your kayak, and you also want a cooler that is easy to lift/carry from your vehicle to your kayak on shore – see "Portability" below.
As mentioned above with regards to storage size, if you have a sit-in kayak your best storage areas are in your dry hatches, which tend to be fairly small – great for tackle and such, but not for fitting a cooler. Sit-on-top kayak owners have a lot more wiggle room in terms of size, but it's critical that you measure the amount of space your kayak has for storage before you commit to a kayak cooler.
The best all-round size for a cooler is a 20-quart-capacity which will fit in almost all sit-on-top kayak storage wells, and is easy to carry from your vehicle to your kayak, and will also have enough storage capacity for drinks, food, bait, and most catches.
Portability / Weight / Attachment System
For kayakers, one of the most important things to consider in a cooler is how you're actually going to transport it from your vehicle to the kayak, and then on your kayak while you're paddling.
After you've found a cooler easy to carry and fit on your kayak, you'll then want to make sure that cooler has a good attachment system – which means the ability to easy attach a 'bungee clip' or rope to the cooler itself in order to secure the cooler to the kayak so that you can secure it to your kayak.
The best coolers will have an integrated locking system and molded tie down slots – as the Vibe 20 Quart Cooler does – or D-rings built into the cooler for attaching bungee-clips or straps to the cooler so waves, tides, or wind doesn't knock the cooler off your kayak while traveling.
Our Recommendation For The Best Kayak Cooler Available - Vibe 20 QT
As tough as your biggest adventure and able to keep ice cold for days even in the sweltering heat, the Vibe 20 Quart Cooler is an ultra-durable personal injection molded polyethylene cooler engineered to withstand a lifetime of outdoor use and abuse, whether fishing, camping, hunting or just partying, and it'll keep your food, drinks and catches cold for up to four days. Designed to fit like a glove in most every kayak's rear well, and with 4 sweet colors like Raven, Caribbean Blue, Arctic White and Coral, it'll match anyone's preferred palette.
Secure, heavy-duty press-and-pull latches, molded-in easy-access can/bottle holders, built-in bottle opener, stainless steel hardware, integrated locking system with molded tie down slots, and non-skid and non-marking feet are just some of the cooler's awesome Mother Nature-tough features. It's incredible versatility is even more noticeable once it's easily attached to your kayak well and you're able to access the Vibe cooler during your paddle.
When it comes to portability, the Vibe has one large, comfort-grip handle that allows for easy carrying and transport.
The Bottom Line
The key to shopping for a kayak fishing cooler as perfect for this weekend as it is for next year, is to find a cooler that's just the right size for your kayak's storage spaces, and with the right materials, construction and features to deliver premium performance – while not breaking the bank.
So, keep in mind what kind of kayak you have, then remember "Durability", "Insulation", "Capacity" and "Portability" – and check out the Vibe 20 Quart Cooler which may very well fit your needs and your wallet best of all. Tight lines!