Best Hydration Choices: Staff Picks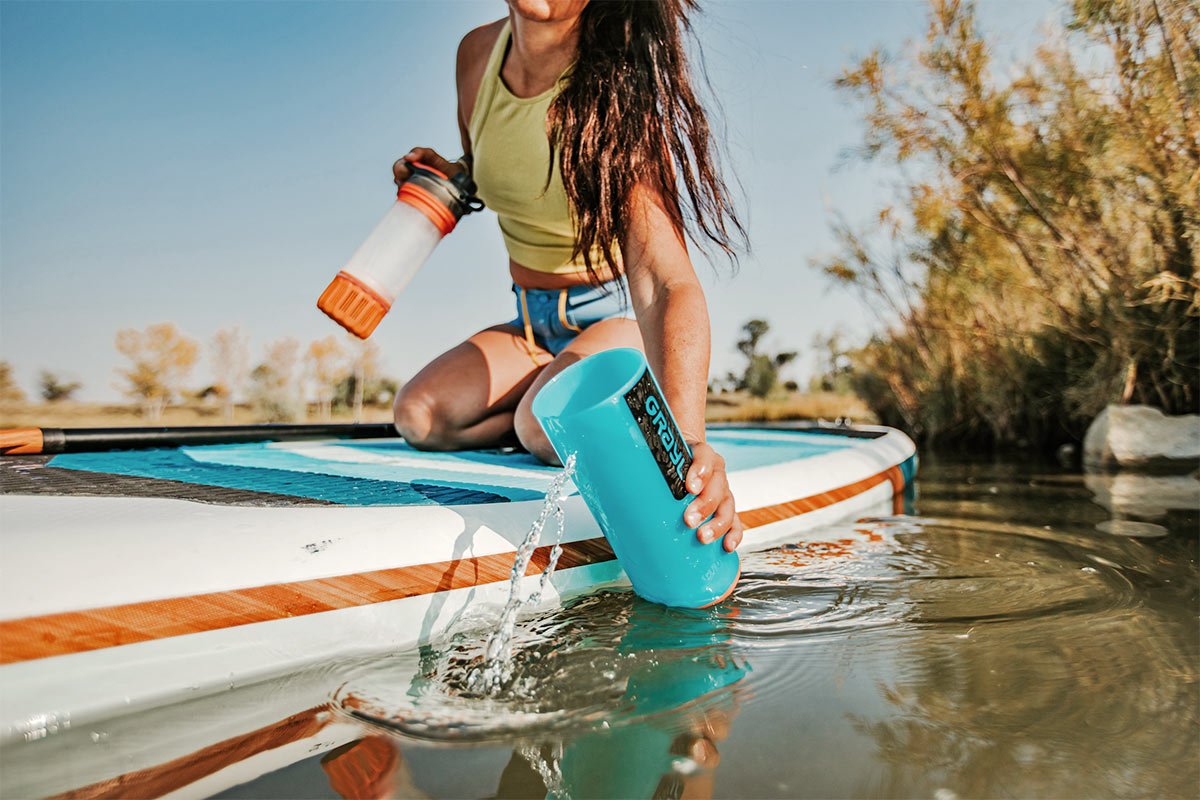 Dehydration is a real danger while kayaking – as important a safety concern as wearing a PFD, or watching out for bad weather or motor boat wakes. Paddling means your body is losing water, and in the warmer seasons, or areas of the country, you're sitting out in the sun, baking and losing water as you sweat.
Safety First – Before And During Paddling
It takes effort and time to stop and get a drink, so many people choose to just keep on paddling – which is a crucial mistake – as you should stop every 30 minutes to take a drink break. A good plan is to also pre-hydrate by drinking 16-32 ounces before you even get on the water.
Avoid caffeinated beverages and alcohol while kayaking / boating because they draw more urine out of your system. And remember, when you're consuming them off the water, you'll need to replace the fluid they're causing you to lose.
When it comes to deciding between water or "sports drinks" with electrolytes, it's more important to try and drink liquids with electrolytes (such as found in Gatorade or Powerade) so that those are replenished if you are paddling in a warmer part of the country, or during the spring-summer seasons. For extended trips, you can use a mixture of 60% water and 40% Gatorade.
So be smart and learn the most popular methods of staying hydrated below, as well as our Vibe staff picks for the best hydration products to keep you and your water (or electrolyte-laden sports drinks) safe and easily at-hand, all season long, every season.
Insulated Options Or Tumblers
The easiest, no-brainer storage option to stay hydrated is your simple-and-straight-forward insulated tumbler or bottle. An insulated drinking vessel retains the temperature of its contents – so cold water stays cold and hot choc or soup stays hot. If you paddle in a hot climate, cold water can also be a life-saver to regulate your body if you overheat.
Most good, premium kayaks – such as all of Vibe's kayaks – will come with a molded-in cup holder which will fit standard sized insulated water bottles and tumblers.
Generally, most insulated bottles on the market will be about 24 ounces, and then you can go up in size with larger options. Tumblers can vary in size to a greater degree.
Vibe Staff Picks:
¬ Vibe 20 oz or 30 oz Tumbler
Available in either size, and virtually indestructible, Vibe's go-anywhere adventure tumbler with a sealable top and made from kitchen-grade stainless steel, plus double-wall insulation, is the toughest way to chill with whatever beverage you hanker for, no matter where that hankering happens. It's also offered in several kickass colors to match your yak or your mood.
¬ Hydroflask 24 oz Standard Mouth Bottle
Hydroflask is always a good choice. Their 24 oz Standard Mouth insulated bottle is just the right size for staying hydrated before, during, and after paddling activities.
¬ Toadfish Non-tipping 16oz Can Cooler
If you plan on a very short paddle, and prefer a can of seltzer water (or other canned bev), then Toadfish offers several sweet "non-tipping" options in different sizes and configurations for insulting your can. Vibe staff loves all of Toadfish's gear!
Filter Options For Mother Nature's Own Aquifers
Filters allow you to filter the water you find out in nature for hydration. This means that this type of hydration option has the capacity to keep you hydrated for the longest stretch of time if you're out on the water. However, water from filters will also be the same temperature as the water source, so keep that in mind in hot environments.
Filters come in a variety of sizes and filtration capabilities – to include "bottle options" as well as "just a filter straw" – so you can choose the right option for your activities' needs. The downsides to filters are that they will eventually clog and stop filtering, they can get quite expensive on the higher end, and they only allow you to drink water, but most filters out there will provide you with filtration for a very long time.
Vibe Staff Picks:
¬ Grayl 16oz Ultralight Compact Purifier Bottle
Available in 3 colors, this is the original, awesome purifier bottle that put Grayl on the map. It's compact, fits on your kayak or a backpack pocket, and provides global protection from waterborne pathogens, pesticides, chemicals, heavy metals and microplastics. In fifteen seconds, it makes 16 ounces of safe, clean drinking water – anywhere on earth.
¬ Grayl 24oz GeoPress Purifier Bottle
An extremely popular Grayl option in 4 colors (which often makes it hard to find them in stock) is the "big brother" offered at 24 oz, which also improves the taste of water over its smaller sibling. No other purifier rivals the speed, simplicity and effectiveness of the GeoPress. In eight seconds, it makes 24 ounces of safe, clean drinking water anywhere – to include murky rivers, weedy ponds or lakes.
For Large Groups – From Sand Bar Or Beach Parties To After-Paddle Tailgating
For ensuring your whole group is hydrated with ice-cold-for-days bottles of water, cans of delicioso beer, or whatever your mood chooses, then the gear of choice is a super-insulated cooler that can as easily fit on your kayak rear well as it can on the back of a tailgate or parked on a sand bar.
Vibe Staff Pick
¬ Vibe 20 Quart Cooler
There's only one choice when it comes to a kayak cooler, and that's the purpose-engineered Vibe 20 Quart Cooler which'll hold up to four day's supply of hydration.
As tough as your biggest adventure – and offered in colors of Arctic White, Raven Black, Caribbean Blue and Coral Pink – this ultra-durable 20 quart personal cooler makes you a well-fed castaway during any size paddling trip or tailgate. Built for fishing, camping, hunting and snacking. this Vibe cooler has secure press / pull latches in an integrated locking system and molded tie down slots, stainless steel hardware, molded can holders and built-in bottle opener, non-skid and non-marking feet, and a heavy-duty comfort handle.
Keep Drinking Water – Even If You Don't Feel Thirsty
Keep drinking fluids even if you don't feel thirsty. Remember, don't wait until dehydration kicks in, because this is more dangerous than mild or moderate dehydration.
Paddle safe and stay hydrated!